Upcoming events
[While some events may be posted here, for up to date and more complete information please see Justin's facebook page or contact him directly.]
Wednesday, April 23rd
Justin will be playing shakuhachi with Ted Humphreys et al. for a great night of music. Here's a taste of Ted: [weaver_youtube http://youtu.be/QTt0_xoCy9o sd=0 percent=40 ratio=.5625 center=0 rel=0 https=0 privacy=0]
Halfway House
24 Priests Bridge
Barnes,
London SW14 8TA
Starts 9pm
Tuesday, April 19th
Shakuhachi improvisation with butoh dance.
Bethnal Green Working Men's Club 42-46 Pollard Row / Bethnal Green, E2 6NB London.
Doors open 8pm
Saturday, March 15th
Justin will be performing shakuhachi at Southwark Cathedral in London for the Great Eastern Japan Earthquake and Tsunami Memorial Service, remembering the tragic events of 2011 in Tohoku. The service will starting at 16:00. We are honored to have the Bishop of Tohoku joining us.

Tuesday, March 11th
Shakuhachi improvisation with butoh dance, followed by honkyoku performance.
MOMO 25 Heddon St, London W1B 4BH
Doors open 8pm
Monday, February 24th
Justin will be playing in the Interfaith Music Festival on 24 February at SOAS in the Brunei Gallery. The festival will take place all day between 11am-9pm. He will be performing at around 11:50am and taking part in a panel discussion entitled "Achieving dialogue and peace through music" from 2:50pm.
https://www.facebook.com/events/240659946081321/?ref=3&ref_newsfeed_story_type=regular
Wednesday, February 12th
Justin will be giving a lecture and performance on the history of shakuhachi, 6:30pm at the Buddhist Society in London, one of Europe's oldest Buddhist organisations. http://www.thebuddhistsociety.org/event/zen-buddhist-flute-music-of-japan-lecture-and-performance-of-1300-years-of-shakuhachi-history/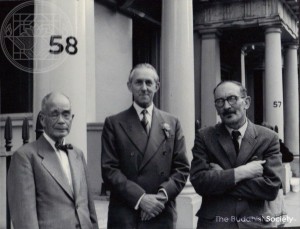 Thursday, February 6th
Justin will be giving a lecture on Creativity and Spirituality at University of the Arts London. For students of the University only. Topic: The connection between Justin's spiritual practice as a Buddhist and his music.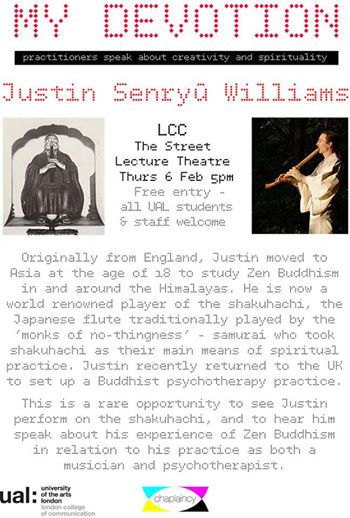 Wednesday, 13th November
Justin will be playing at and participating in an Inter-Religious Dialogue at St Ethelburga's Centre for Reconciliation and Peace.
Saturday, October 26th
Justin will be playing Shakuhachi at the opening of the Hokusai Exposed exhibition in London. The performance will be around 7pm. For tickets and details see:
http://www.hokusaiexposed.com/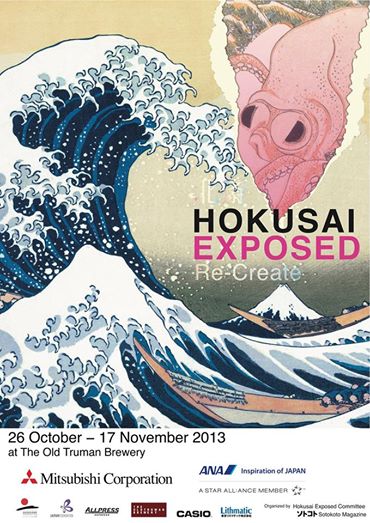 [Please see Justin's facebook page for up to date info on upcoming events for this Autumn]
16th and 18th July
Justin will be playing in London on 16th and 18th of July, at two evening lectures by renowned Tibetan translator and meditation teacher Dr Alan Wallace. It is a real privilege to have Alan here in London.
A scholar and practitioner of Buddhism since 1970, Alan has taught Buddhist theory and meditation worldwide since 1976. Having devoted fourteen years to training as a Tibetan Buddhist monk, ordained by H. H. the Dalai Lama, he went on to earn an undergraduate degree in physics and the philosophy of science at Amherst College and a doctorate in religious studies at Stanford.
See on facebook here or book tickets here.
Tuesday, July 16th, 2013 at 7:00pm
Dr Peter Fenwick and Dr B Alan Wallace on the Ultimate Nature of Reality – Science and Meditation
The Study Society, Colet House, 151 Talgarth Rd. Barons Court, London W14 9DA, UK
Thursday, July 18th, 2013 at 7:00pm
Lecture by Dr B Alan Wallace: "Buddhism and Mental Health"
The Study Society, Colet House, 151 Talgarth Rd. Barons Court, London W14 9DA, UK
Saturday, July 6th, 6:00pm – 10:00pm
Justin will be playing in St Ethelburga's Church again, one of London's best venues for World Music. A special evening with a dozen of the team's favourite musicians to celebrate Wallee's amazing achievements and hard work in organising so many years of great music:
Gala for Wallee
St Ethelburga's Centre for Reconciliation and Peace
78 Bishopsgate
London, EC2N 4AG
United Kingdom
St Ethelburga's Centre for Reconciliation and Peace
78 Bishopsgate
London, EC2N 4AG
http://www.stethelburgas.org/
Past Events
Click here for some photos of past events