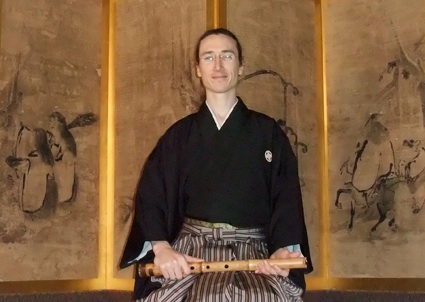 Welcome to the website of Justin Senryu, master maker, performer and teacher of shakuhachi, Japanese bamboo flute.
For Buddhist Psychotherapy, please go to Justin's other website by clicking here.
Justin is one of the foremost experts of shakuhachi honkyoku – the Zen Buddhist music of the komuso, monks from Edo period Japan whose spiritual practice centred around the meditative music of the shakuhachi. He is one of the few people to have received his Shihan master's license from more than one lineage, and equally rare for being both a professional performer and master craftsman of shakuhachi. On this site you can find more about Justin, the repertoire and rare honkyoku lineages he transmits, and information on the history of shakuhachi and listen to shakuhachi made and played by Justin.
For hand made concert quality shakuhachi, in both jinashi and jinuri styles please refer to the shakuhachi making page, and follow the menu for restoration and repairs, or contact Justin directly.
Justin teaches Japanese shakuhachi music both in person at his dojo in London and online via skype. Please refer to the shakuhachi lessons page for more information.